Service and Support
Customer support is the foundation Interstate-McBee is built on. From warehousing, to warranties, to in-house support, every facet of our business has been crafted with the customer in mind
Shipping and Warehousing
In 2008, we opened a 150,000 sq. ft. facility dedicated to distribution. We hold, on average, $40 million worth of inventory and maintain a 95% order fill rate. Over the years, we've added several more facilities across the United States to further improve our operations. We now have branches in not only Cleveland, Ohio, but also Miami, Houston, Los Angeles, and Lincoln, NE. We ship worldwide and most of our orders are shipped the same day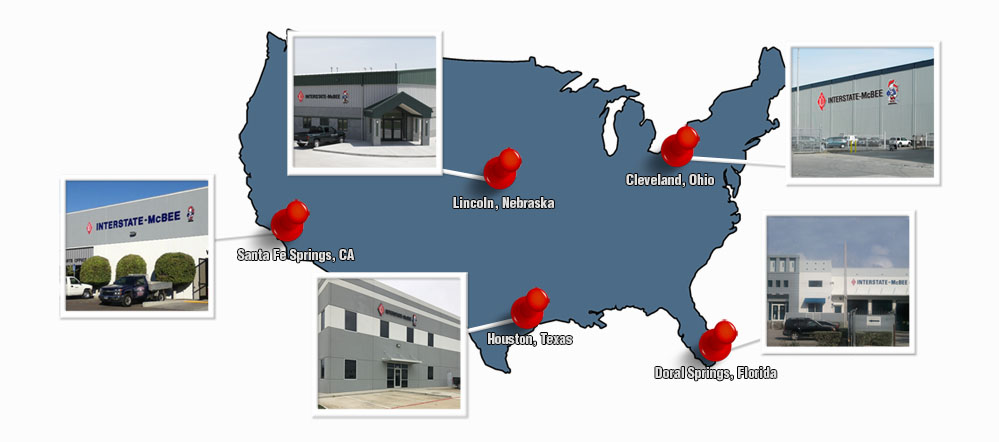 Customer Service
Across our five locations, we maintain a staff of 20+ qualified customer service experts with a combined experience of over 100 years. From early morning on the east coast to closing time in California, a qualified representative is always available to assist.
Representatives are product knowledgeable, industry trained and detailed oriented. They have the ability to access company information to assist with correct parts selection, product availability, order processing and tracking of shipments.
Warranties
We take a different approach than our competitors when it comes to warranty claims. Our fully transparent process is centered around in-depth testing done by certified diesel technicians on actual engine equipment. Our technicians aren't just guessing when they review your warranty claim; They're performing a hands-on evaluation. Our testing facility features innovative diagnostic machinery that tests parts in 20+ different key characteristics such as combustion, horsepower, durability, and emissions.
Characteristics We Test:
| | |
| --- | --- |
| CO levels | Engine Oil Pressure |
| CO2 levels | Fuel Pressure |
| O2 levels | Boost Pressure |
| NOx levels | Crankcase Pressure |
| Smoke Opacity | Engine Output |
| Exhaust Temp. | Engine Load |
| Turbo Air Temp. | Engine Throttle |
| Intake Air Temp. | Torque |
| Oil Temp. | Horsepower |
| Water Temp. | Engine RPM |
| Fuel Temp. | ECM Parameters |