EMD / GE®
Home of the Ecotip Superstack
Interstate-McBee is the world's leading independent manufacturer of fuel injectors and injector components for EMD and GE engines.  In addition to building new and UTEX injectors and pumps, we also manufacture the components in our facility in Cleveland, Ohio. The patented Ecotip is designed to reduce smoke and save fuel and is available for all EMD engine applications with mechanical fuel injection. As an OEM partner to EMD, Interstate was the exclusive supplier for all the mechanical injectors and components for both non-emission and in EMD's Tier-0 and Tier-0+ emissions-certified kits.  Using our patented Ecotip technology, our injectors helped EMD achieve the lower emissions necessary to meet the strict EPA guidelines.  These same injectors are available to all our customers today.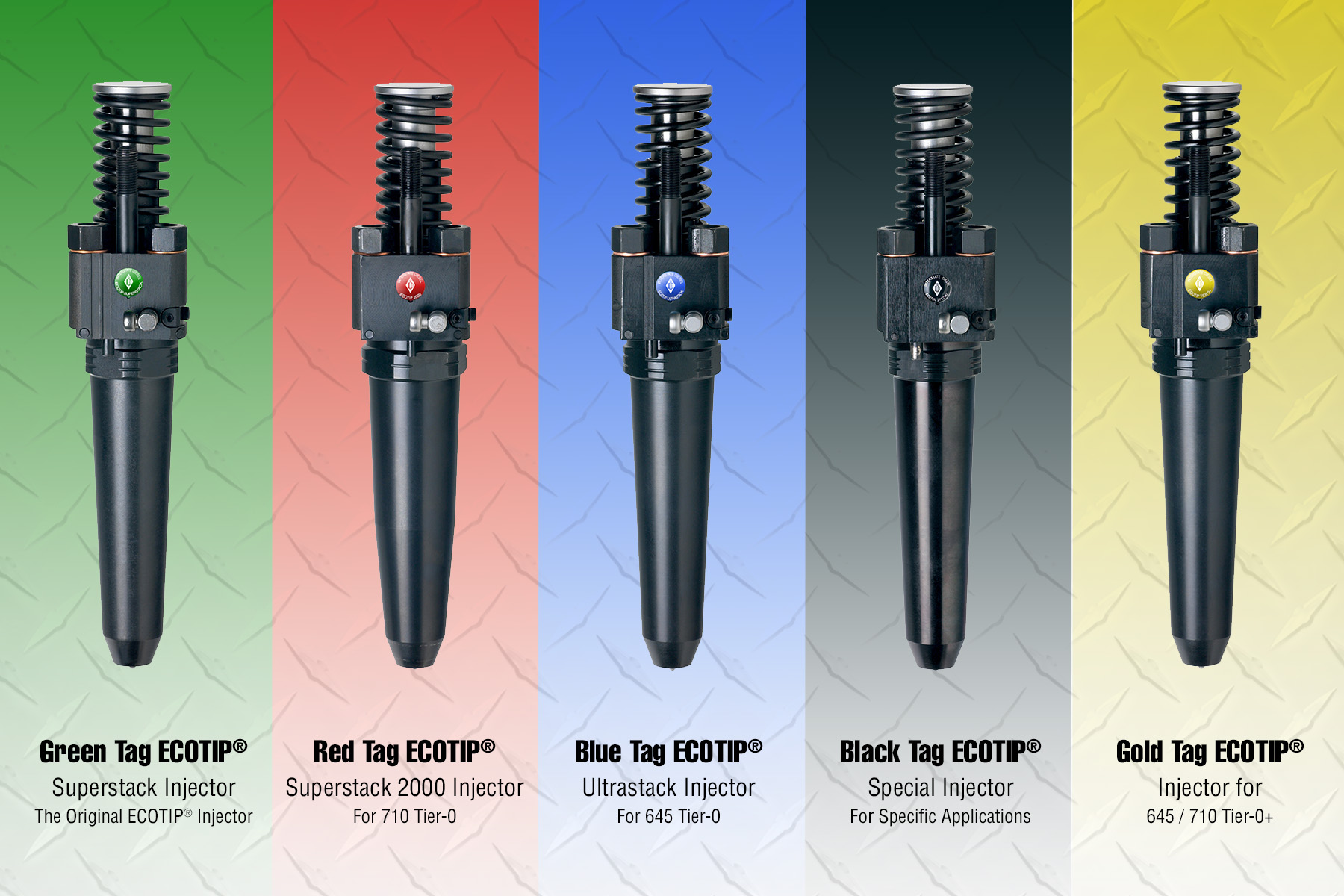 What is the ECOTIP® Superstack?
The ECOTIP® Superstack is exclusive to Interstate-McBee injectors and has unique features allowing for a variety of benefits.
Features of the ECOTIP® Superstack:
Reduced "sac" area reducing fuel left after injection
Components matched for enhanced performance
Patented check valve to reduce fuel consumption
Advantages of the ECOTIP® Superstack:
Fuel savings up to 3%*
Emission particulates reduced by 44%*
Elimination of fuel drip after injection
Improved engine response at higher altitude
Increased component reliability and durability
Efficient atomization

More complete combustion
Better fuel economy
*Compared to standard injector design
Extended Idle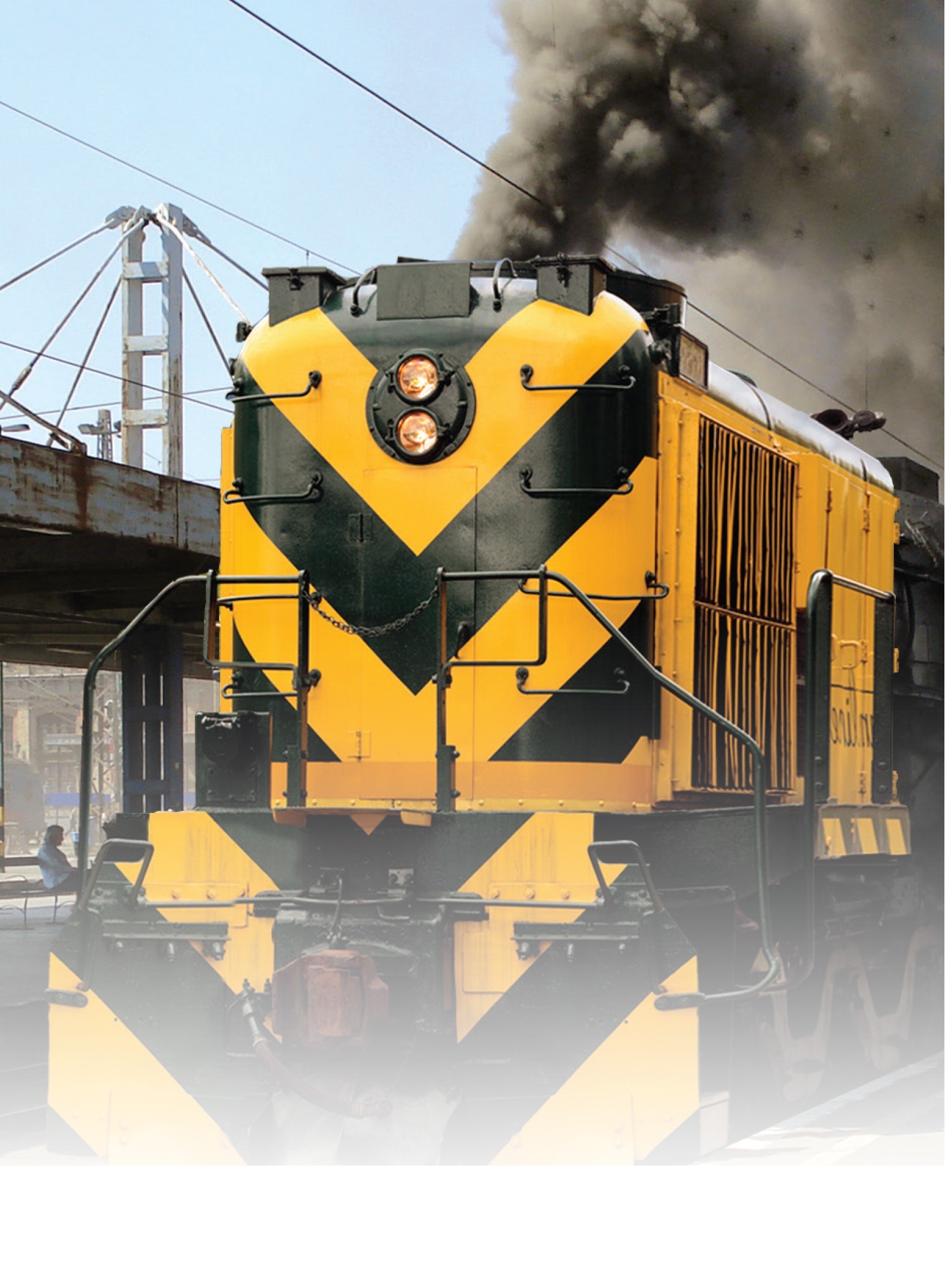 The term coined by mechanical officers as "souping" is when locomotives spend several hours a day idling causing the engine lube oil to push out and coat the interior of the stack. Souping is messy, creates safety hazards, and causes hot embers to be blown into the air when shifting to higher notches.
In order to reduce this issue, Interstate-McBee designed an injector specifically for extended idle applications. These extended idle injectors feature a helix cut plunger design that allows for modified fuel delivery at lower level notches for more efficient fuel burn while also providing full fuel at higher notches. Extended idle injectors also feature our patented ECOTIP® Superstack that reduces smoke and provides more efficient fuel atomization.
Benefits of extended idle injectors:
Decreased risk of trackside fire
Diminished chance of fines
Reduced oil on car bodies

Less cleaning
Lower labor costs
Safer work environment

Reduce ring and liner wear
Accommodates both light and heavy loads
Increase overall locomotive performance
GE®
Interstate-McBee offers replacement pumps and injectors for GE® applications. Each of our UTEX injectors (NHAs) have a new spray tip to deliver precise atomization and fuel economy for the life of the injector. In addition, all of our UTEX pumps are built with new control valve which assure exact timing and increases accuracy in fuel delivery.
In order to meet the same emissions standards for GE 7FDL Tier-1+ engines, we also use flow codes on all our GE replacement pumps.  We also supply replacement GE injectors (NHAs) for the 7FDL Tier-1+ certified engines.  Both our pumps and injectors have been certified by the EPA for replacement on 7FDL emission certified engines.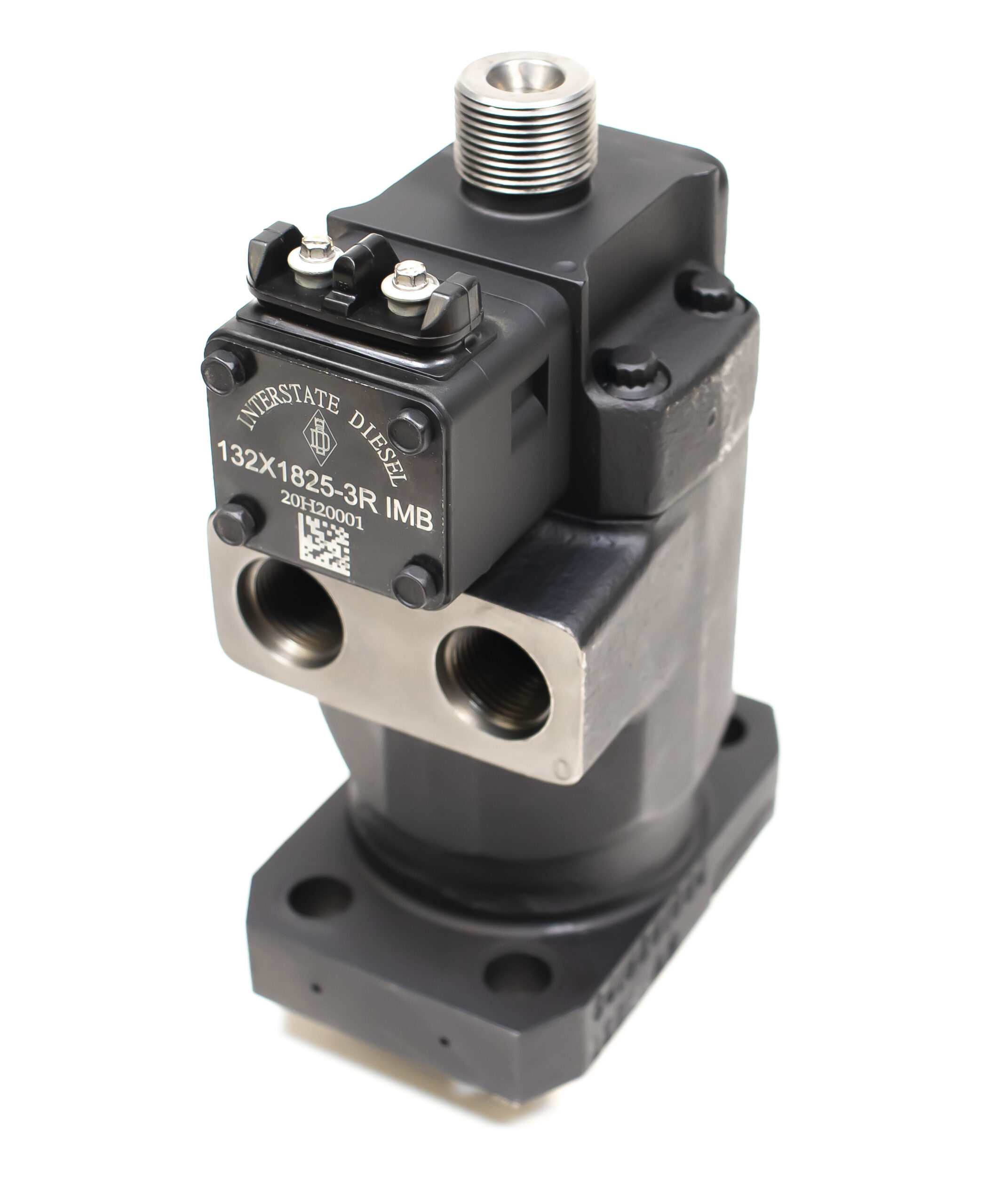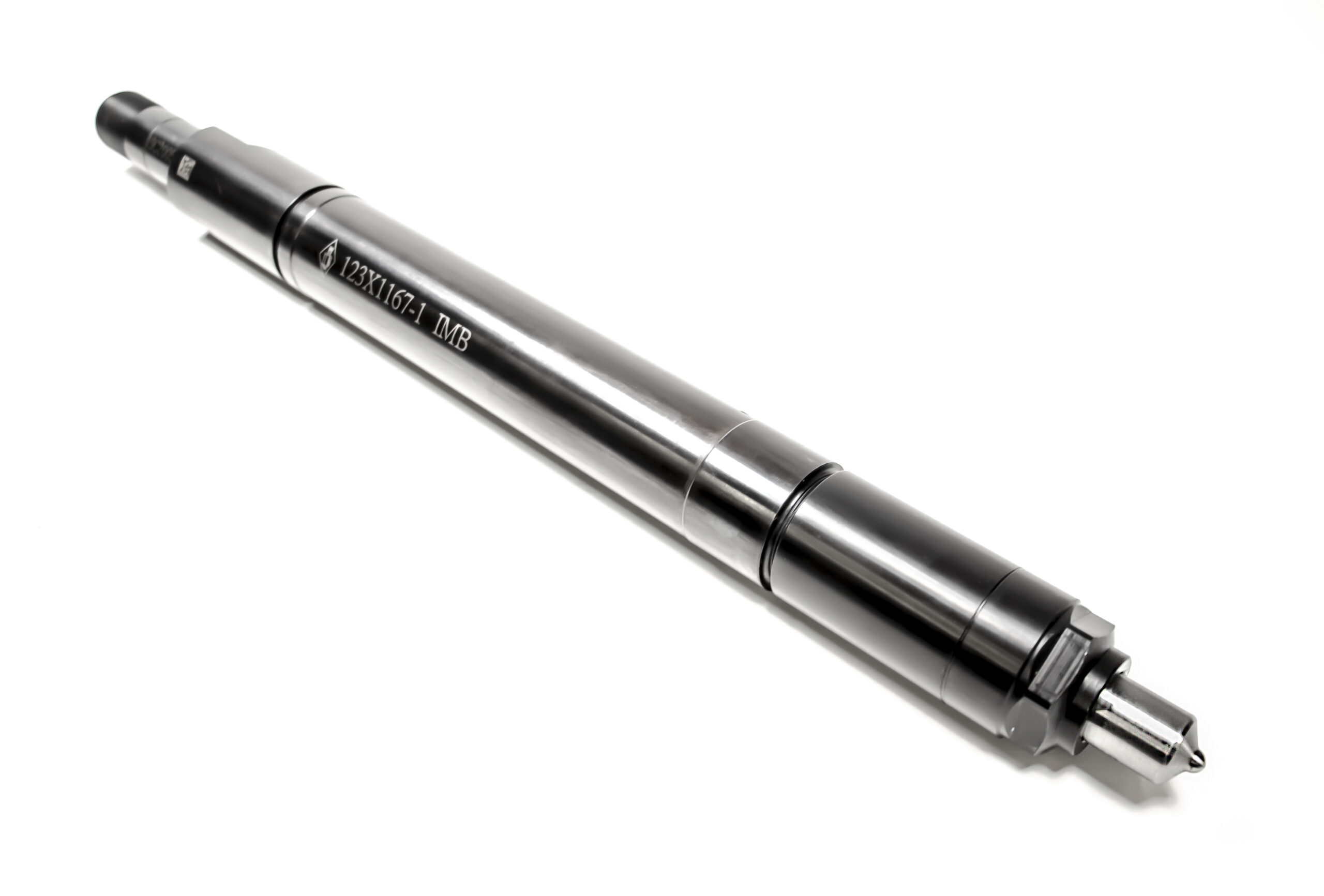 EMD®
Interstate manufactures new and UTEX electronic fuel injectors (EUIs) for EMD emissions certified engines covering Tier-0 through Tier-3.  These injectors are the only replacement EMD EUIs that have the appropriate injector flow codes needed to ensure the engines meet or exceed EPA emissions requirements.
For all EMD/GE related inquiries, contact Patrick Roach at: proach@interstate-mcbee.com
"After replacing the injectors with Interstate's Ecotips, our fuel bills dropped by over 10%. We didn't make any other changes and our business remained constant so the fuel savings are definitely the result of doing a complete change-out with Ecotip injectors."
"Tacoma Rail aspires to 'green up' as much as possible on a limited budget, and ECOTIPS are a great addition. The smoke opacity reductions were readily apparent, an important part of the Puget Sound region's efforts for reduced emissions."
"The era of cheap fuel, excessive smoke, wet-stacking, or otherwise 'dirty' locomotives is over. We strive to provide a clean, economical, repairable, and reliable locomotive solution. As of 2018, all our locomotives have been equipped with the ECOTIP and the benefits are paying dividends for our customers."
Image
Title
Date
Document Types
hf:tax:document_type
hf:tax:language

Core Codes and Acceptance Guidelines
August 1, 2023

Catalog

,

Policy

catalog policy
english

HEUI Chart
June 29, 2023

Flyer

flyer
english

Injector Reference Chart
June 29, 2023

Flyer

flyer
english

Trim Code Files
June 29, 2023

Flyer

flyer
english

Electronic Fuel Injectors and Components
May 18, 2023

Catalog

catalog
english

EMD® Injector Core Identification Guide
April 18, 2023

Policy

policy
english

Full Line Card
January 1, 2023

Foldout

,

Line Card

foldout line-card
english

Nuevas Versiones de Productos – Noviembre de 2022
November 18, 2022

New Product Release

new-product-release
spanish

New Product Release – November 2022
November 18, 2022

New Product Release

new-product-release
english

Cummins® ISX Reman Injectors
October 6, 2022

Flyer

flyer
english

Proceso de Remanufactura
July 6, 2022

Flyer

flyer
spanish

Injector Remanufacturing Process
July 6, 2022

Flyer

flyer
english

Nuevas Versiones de Productos – Abril 2022
April 26, 2022

New Product Release

new-product-release
spanish

New Product Release – April 2022
April 26, 2022

New Product Release

new-product-release
english

Nuevas Versiones de Productos – Noviembre 2021
November 19, 2021

New Product Release

new-product-release
spanish

New Product Release – November 2021
November 19, 2021

New Product Release

new-product-release
english

ISX-XPI Remanufactured Injectors
October 29, 2021

Flyer

flyer
english

John Deere® Reman Common Rail Injectors
September 23, 2021

Flyer

flyer
english

C15/18/27/32 ACERT Reman Injectors
June 3, 2021

Flyer

flyer
english

Injector Core Guidelines Checklist
May 20, 2021

Policy

policy
english

Electronic Injector Guide
May 1, 2021

Foldout

foldout
english

DD15 / S60 14L Reman Injectors
February 1, 2021

Flyer

flyer
english

Electronic Injectors
November 1, 2020

Flyer

flyer
english

Interstate Diesel Engine Management System
October 19, 2017

Flyer

flyer
english
Celect® Reman Injectors
August 8, 2017

Flyer

flyer
english