Extended Idle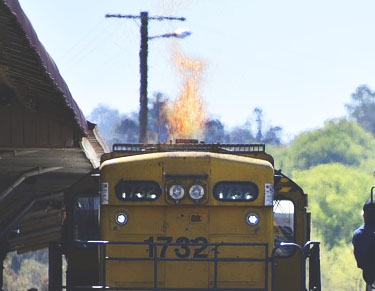 Diesel engines are not intended to be run at an idle for a long period of time, but for some locomotive duty cycles it can't always be avoided. When idling a locomotive engine for a long period of time, there are possible problems that must be dealt with to increase the longevity of your engine.
The main issue extended idle locomotives face is wet stacking. Wet stacking occurs when your engine receives excess fuel at idling engine temperatures, which are lower than typical operating temperatures. Because the engine is not hot enough to burn the fuel completely, the remaining particulates build up as a thick, dark liquid on your exhaust system, commonly known as "souping".
Here at Interstate-McBee, we have a solution to help prevent wet stacking. Our extended idle injectors feature a modified helix cut plunger design that decreases the amount of injected fuel when an engine idles. By limiting the fuel injected into the engine less fuel is used during combustion for a more complete burn leaving far less particulates in the system and decreasing the chance of wet stacking.
Benefits to our extended idle injectors include:
Decreases risk of trackside fire
Diminishes the chance of fines
Reduces oil on car bodies

Less cleaning
Lower labor costs
Safer work environment

Reduces ring and liner wear
Accommodates to light or heavy loads
Increases overall locomotive performance
See our flyer for more information or check out our replacement EMD/GE products page.